It's been almost a week since we returned from our recent soccer tournament in Brossard, Quebec, and Eli is still talking about it. He is not talking about it in a good way either; he is still disappointed with the outcome.
We were so excited to hear Eli's team entered the Brossard Soccer Tournament in Quebec. We thought it would be a fantastic opportunity for him and his teammates to play on a bigger stage. They are doing well so far but needed a more significant challenge. Eli was counting the days, months in advance. We all had high expectations.
The car ride, including bathroom breaks, took about six hours. We are a road trip family, so six hours is not too much for the children. Our hotel was in Laval, almost half an hour from where the tournament was being held. We arrived in Laval around 9 pm the day before the first match, had a quick meeting with the team and coach, and then retired anxiously to bed. The first game was at 8 am and the second was at 5 pm.
Game Day 
The first game started well. The boys scored the first goal and were playing great as a team. They were communicating well with one another, passing the ball around, and listening to instructions from the coach. I am not sure when it started going south, but the referee began to play unfairly. It was heartbreaking. All the calls were in favour of the home team and none for us even when we deserved it. The referee's unfair actions broke our boys; they were working hard and doing everything they were supposed to do but were not getting any reward in return.
We lost the first game. The second game at 5 pm was much better than the first. In the beginning, our boys were winning convincingly, and the referee again decided he was not having it. He allowed so many offside goals to be counted, distributed so many yellow cards to our team, and eventually stopped the game when he gave our coach a red card. Eli and his teammates were so heartbroken, and rightfully so. It's like they traveled so many miles to be cheated out of the opportunity of fair competition. I have all the video footage to back up my claim. This is not me being an impossible soccer mom; this is me calling a spade a spade.
We Celebrated Our Boys
We licked our wounds, returned to the hotel, and let the boys have a fun night together. We had a pool and pizza party. Children are resilient and soon forgot about what happened during the day. We wanted to be a no-show for the third game, but the boys insisted they finish what they started. There were other teams from Ontario in the competition. We decided to show up early the next day to see how the officials were at those games, and it was the same treatment those other teams were receiving. A different set of referees officiated the final match that Eli and his team played, and I wish I had taken their names. They were very fair; there was no disputing any of their calls. The boys lost; we were okay with that loss because the game was fair.
A team from Ontario ended up winning the overall tournament in the age group in which Eli and his team participated. That made us so happy. Despite the barriers that were placed in their way, they were able to band together and bring home the trophy.
"I never lose. I either win or learn."
In our group chat, as we were going back and forth, the Coach's wife reminded us of the wise words of Nelson Mandela. "I never lose. I either win or learn." So profound when you think of it. Those words helped sway how I was relating to Eli about the weekend. It was not a complete waste of time. It was a glimpse into life. When you are placed in a difficult situation and events don't go as planned, do not view them as a loss; view them as an opportunity to learn. Yes, the referees were laughing at our team as they cried their eyes out, and yes, they were laughing at our teammate when he got hurt, but instead of letting your anger dictate your game, dig in and win and if you cannot win, then learn.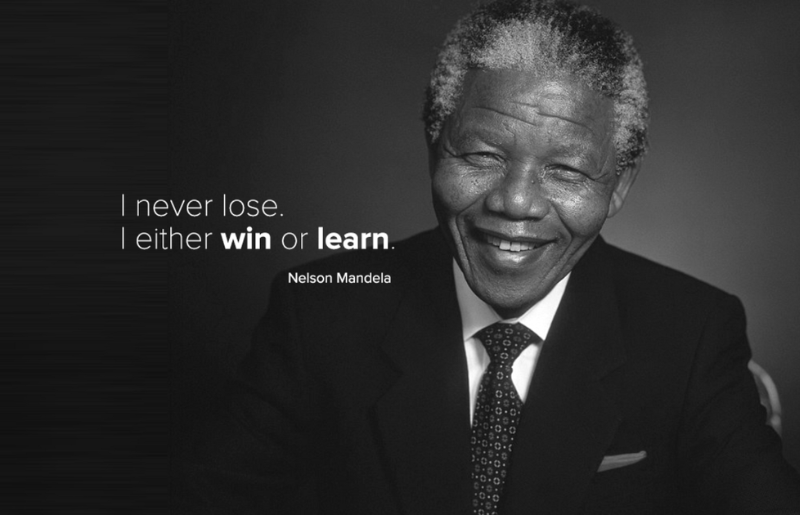 392 views