Smoothies are usually my breakfast beverage of choice. Almost every morning when I wake up, I start my day with my morning exercise routine, followed by two cups of warm water and then my green smoothie. I sometimes have papaya, banana, and mango, but avocado, spinach, and kale are my favourite.
Health Benefits of Green Smoothies
Green Smoothies are a great source of vitamins and minerals, like Vitamin A, B & C, calcium, folate, and magnesium, to name a few. They are great for digestive health, building immunity, lowering cholesterol, and improving bone health. Above all, green smoothies are a great source of iron. My iron levels are usually are low, so I have to ensure that I have a source of iron included at each meal.
I have been really excited about my green smoothies for the past couple of weeks because the kale ingredient comes directly from our kitchen garden. Deep down, I have always wanted a farm with flourishing crops. I love the idea of being able to gather your ingredients from your patch. When you grow your food, you have direct control of what you are putting inside your body.
I am more in tune with what I put in my body since my last health scare, so this smoothie checks so many boxes. We all know that a healthy immune system is hinged on a healthy gut; this smoothie addresses both.
Have you heard about Vitamin K? Did you know that dark, green leafy vegetables are a great source of it? Did you know some of the health benefits of vitamin K include bone health, reducing cardiovascular disease, improving bone mass in patients with thalassemia, and preventing bleeding problems in newborns and adults? Research suggests that vitamin K can also reduce the risk of breast cancer and is an essential dietary need in patients with cancer.
But I digress, back to my smoothie.
1 small avocado
1 cup of spinach
1 medium banana
2 medium leaves of kale
1 cup of unsweetened cashew milk
Combine the ingredients and blend for approximately one minute or until the mixture is smooth. 
If you want to add a little fiber to the smoothie, you can include almonds and flaxseed.
…and voila, your avocado, spinach & kale smoothie breakfast is served.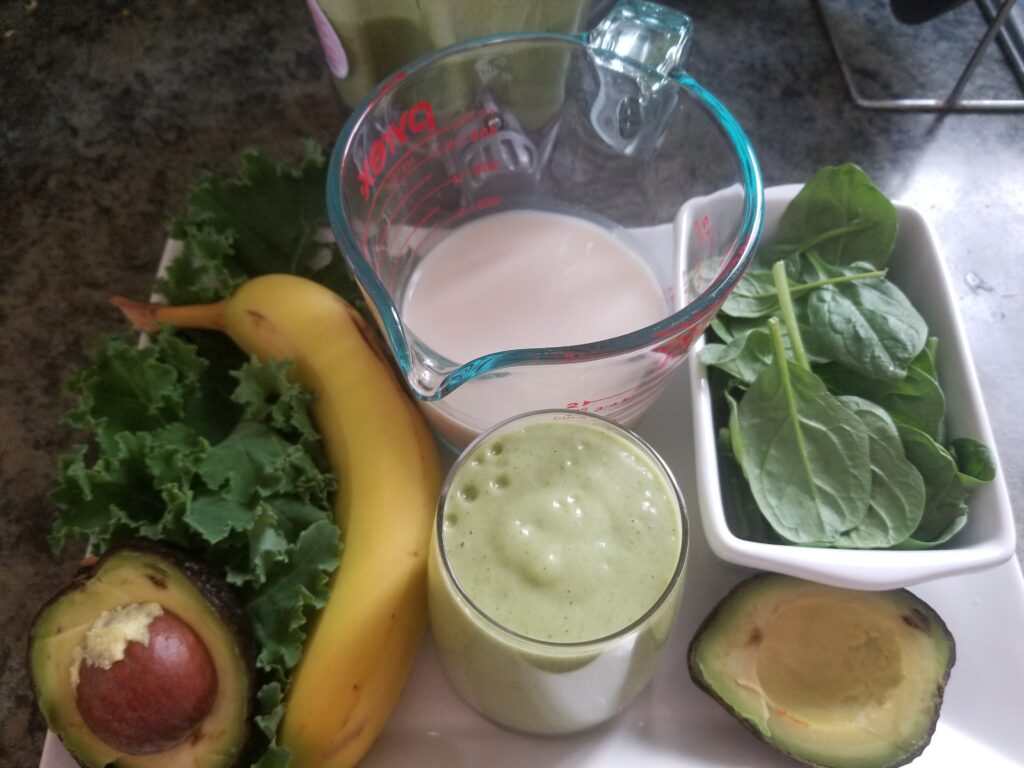 86 views